Pin It
I love this spicy rich healthy carrot soup. It tastes exotic, yet is very simple to make.
I put a heart on my bowl of soup because according to
an IVillage article "
Spicy Foods Are Good for Your Heart".

This recipe calls for a hot Moroccan spice blend called
"harissa"
- (a pasty combination of hot chili, cumin, coriander, garlic and other spices typically used in North African cooking in countries like Morocco, Algeria,and Tunisia.)-
I didn't use it; it's too hot for me!!
Instead
I just used the c
umin, coriander and garlic. ( spices contain substantial amounts of immune building and anti-inflammatory antioxidants.) The color and flavor is exceptional because freshly ground spices are brilliantly colored, exceptionally fragrant, and bursting with health giving benefits.
It might be good for the heart, and you might really like it, but it's too hot for me. I toned my recipe down somewhat and just used the cumin, coriander, and garlic. I left out the hot peppers and added some white wine( Chardonnay) for flavor.
However, if you like things hot and spicy , you have to try "harissa" . A prepared version can be purchased in a can in most spice shops but you can make it yourself! It is a staple in most Moroccan homes and is used in many of their recipes.
Here is a link for an authentic homemade" harissa" recipe posted by
Katherine Martinelli
on fabulous her blog.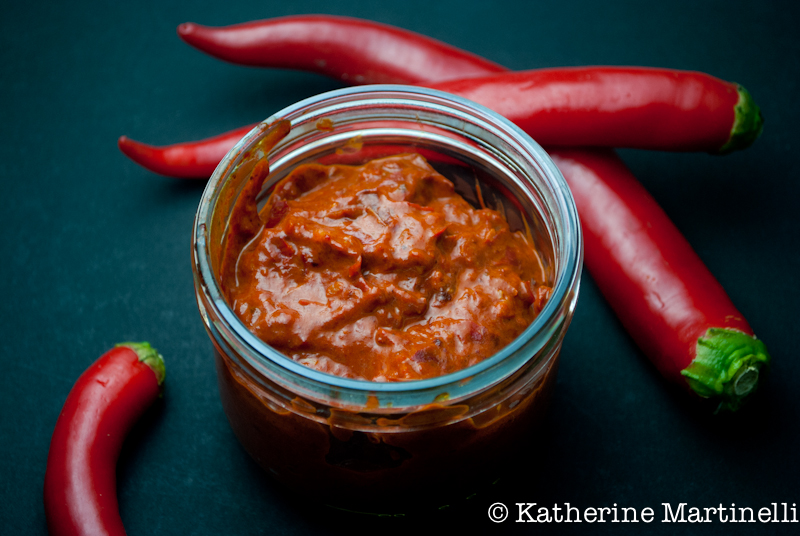 Fresh Spice Market in Istanbul, Turkey (photo from our trip to Turkey in 2010)
Moroccan recipes are not new to me, as I already make a wonderful recipe called
Moroccan Spiced Lemon Carrots
which I and everyone I've ever served it to adore ( It's lemony, not hot) So, you can imagine how excited I was when I found this recipe in
Vegetarian Times
for Moroccan Spiced Carrot Soup . I knew it was something we would love to try.
However, I wasn't prepared for how much we would love this soup. My husband and I found it to be exceptional.
I adapted the recipe somewhat. So, the recipe that follows is my version.
Soup Ingredients:
2 TBS. butter or olive oil (I use organic)
1 additional TBS olive oil
2 large onions, chopped
2 large red bell peppers, chopped
3 TBS tomato paste
8-10 fresh cloves garlic, chopped
3 medium-size carrots, diced
2 russet potatoes, peeled and sliced
6 cup homemade vegetable broth ( or if in a hurry, I used Pacific Brand Organic vegetable broth.)
1 cup low sodium tomato juice or V8 juice
2 1/2 tsp. harissa ( optional if you like things hot! ) or just select the following spices
1 tsp cumin
1 tsp coriander
1/2 cup white wine optional ( the alcohol will cook out completely but imparts a nice ffabulous flavor )
Directions
Melt butter and olive oil in large soup pan over medium heat. Add onions, peppers and garlic, and saute 3 to 5 minutes, or until soft, stirring often.
Add carrots and potato and cook 4 to 5 minutes more, or until potatoes begin to become brownish .
Add tomato paste and stir through all the vegetables and stir and cook a little more
Add broth, tomato juice, and wine, harissa if using it or cumin and coriander. Reduce heat to medium-low and simmer 30 minutes, or until potatoes and carrots are soft.
Serve chunky vegetable style ( my favorite) or
Transfer mixture in small batches to blender or food processor, or use an immersion blender, and puree until smooth. Season to taste with salt and pepper.
Garnish with Greek Yogurt optional.. ( I put it in a zip loc bag and snipped the end. Then I squeezed it into a heart design onto the soup)
The soup can be eaten blended or chunky! It's delicious both ways so, have it your way!
Sometimes I prefer a milder soup, so I will use the wine for flavoring, but I leave out the cumin and coriander. Obviously, it tastes different, but is very delicious and soothing . I usually eat my soup chunky.
For an authentic homemade recipe for harissa, follow the link to a fabulous blog by
Katherine Martinelli
This will also be shared on
Please leave a comment so I know you stopped by. Scroll down to the end of the post and click on comments.